Non-Surgical Solutions to Back Pain
Worldwide, back pain rates as the single leading cause of disability — keeping many from working and enjoying everyday activities. It is also important to note:
Disability as a result of back pain has increased by 54% since 1990. The cost of lost wages due to back pain is over $100 billion and rising. When all other methods of relief and healing seem to fail, it can be easy to think that spinal surgery is the only option remaining that might finally help your back feel better. While surgery is often the recommended treatment for certain conditions, there are also non-surgical options available: regenerative medicine.
---
Within 28 days, many regenerative medicine patients receiving PRP injections experience up to 85% pain reduction, and within 6-months they are living pain-free.
Watch This Inspiring Patient Story From A Patient Experiencing Extreme Back Pain From A Car Accident:
---
What is Regenerative Medicine?
We live in an exciting time for medicine and for those seeking non-surgical means of recovery and pain relief. With advances in technology and research, the options for patients suffering from back pain and injury finally have options. Though surgery is often the next step for many patients, utilizing regenerative medicine is also becoming more accessible and preferred by back surgeons as a means of treatment.
Regenerative medicine is an umbrella term for a couple of procedures that involve using the body's own means of healing to target those areas in the back that are injured. Stem cell therapy, PRP therapy, platelet lysate, and MSC Injections for back pain are methods of regenerative medicine that are allowing those suffering from back pain and injury to return to their daily lives faster than those that underwent surgery.
---
Regenerative Medicine For Back Pain
Regenerative medicine offers a non-surgical solution to back pain. It is allowing many patients in Houston and beyond to not only finally find relief from pain, but also to get back to their lives as usual — sometimes even after years of pain and disability. Although surgery is sometimes the only treatment plan recommended for various conditions, regenerative medicine — such as platelet rich plasma (PRP) injection therapy, platelet lysate, and MSC Injections for back pain — are becoming an effective and sought-after non-surgical solution available to qualifying patients. 
This treatment has received recent notoriety after numerous celebrities have undergone treatment with impressive outcomes. In addition, there have been causes for caution and concern, when treatments have been administered without appropriate medical supervision. Because PRP is relatively new for orthopedic applications, the clinical studies performed have been small and few in number with varying results. Because of this, insurance often does not cover PRP therapy. Obtaining and objective, informed and medically-expert opinion concerning its appropriateness for your condition is imperative.
Today, regenerative treatments, such as PRP, platelet lysate, and MSC Injections are being offered by an increasing number of practitioners, including some of the nation's premier spine surgeons. The fact that the top spinal surgeons in the country recommend a non-surgical approach to treatment is indicative of the potential effectiveness of this treatment plan. Why are so many recommending regenerative treatments to their patients? 
---
Why Choose Non-Invasive Back Procedures?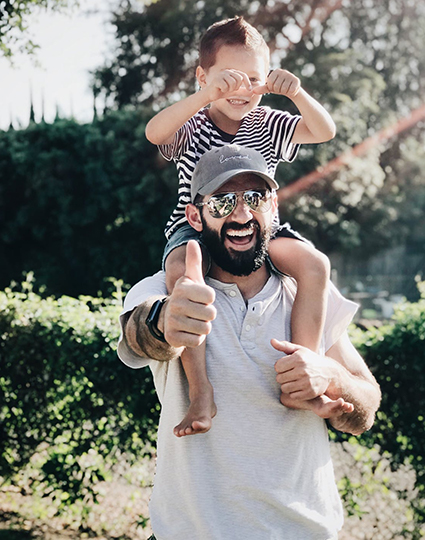 ---


---
A Note from Houston's Leading Spine Surgeon Dr. Ra'Kerry Rahman

My name is Dr. Ra'Kerry Rahman and I would like patients to understand all of their options when treating back pain. In addition to minimally-invasive and spine surgery, there is a non-invasive regenerative medicine procedure performed in the office that takes under 1 hour.

Many patients who have had this procedure report that in as little as 28 days they have experienced 85% pain reduction. Within 6-months their pain is virtually gone. They are able to play with their kids and grandkids, are able to sleep through the night, and are generally happier. 
There is a bit of bad news. Not everyone is a candidate for this procedure. Many of you will need to have surgery.
However, by answering the simple questions in the form below, I will be able to determine if you qualify as a candidate for regenerative medicine and for my online review of your case.
Normally, a telemed review of an MRI is billed at $399. Yet, if you qualify as a candidate for the procedure, the cost for your case review is at no charge. 
Simply take the short questionnaire, and we can determine if you are a candidate.
---
---
Whom should you trust w
hen researching regenerative medicine?
Many patients have successfully avoided surgery through regenerative medicine. PRP (platelet rich plasma) therapy has been extremely effective for back and neck pain patients who have exhausted other treatments. 
Because of its growing popularity in numerous applications, regenerative medicine has become more widely-available. It is now administered by a variety of numerous health care providers and back pain specialists throughout the Houston-area. When choosing regenerative medicine, who should you trust?
It is vital to choose a doctor who has the most medical expertise to provide you with sound advice for your condition.
Dr. Rahman is among the most highly-qualified spine surgeons in the Houston area. Because of his specialized education and extensive experience in complex spine and scoliosis surgery, minimally-invasive and general procedures for adults and pediatrics, he is able to provide patients with a comprehensive perspective regarding the best course of treatment for their back problem. This often includes advising patients how not to have surgery.
From non-surgical, minimally-invasive or open surgical procedures, patients can rely on receiving state-of-the-art expertise to choose the best course of action for their particular condition.
The expertise of your medical provider is the most important consideration when determining a treatment plan for your back problem. Dr. Rahman is unique in the Houston market because he is one of the nation's elite spine surgeons. From non-surgical, minimally-invasive or open surgical procedures, patients can rely on receiving state-of-the-art expertise to choose the best course of action for their particular condition. 
Our goal is for Dr. Rahman to be the last surgery appointment you'll ever need.
---

---
---
What is PRP Therapy?
The growth of platelet rich plasma injections is evident in the numerous procedures that are being offered across the health and wellness industry. From orthopedic to cosmetic procedures, practitioners in many disciplines are embracing this regenerative approach. It is always recommended that before undergoing any medical procedure patients should research the qualifications and experience of the provider with whom they are entrusting their care. 
How Does It Work?
PRP stands for Platelet-Rich Plasma and is essentially, using a patient's own blood to stimulate healing. Within our body, we have various entities that are responsible for regeneration. One of those is the platelets within our blood. These cells are packed with powerful factors such as growth factors and cytokines. 
When we become injured, these factors awaken the surrounding cells and signal them to the place of injury to speed up the healing process. When these cells are at work, all types of tissues are able to heal and regenerate including tendons, bones, and even blood vessels.
Where Do PRP Injections Come From?
How Do Growth Factors Work?
The growth factors within our cells are responsible for the entire healing process. Platelet-rich plasma is chosen to stimulate healing because of the concentration of growth factors that are bound to the platelets found in our blood. These factors are responsible for the regeneration of cells to heal the affected area. Cytokines are responsible for organizing the healing process; they are essentially the foreman of the healing "construction crew."
---
---
The Benefits of Regenerative Medicine
Many surgeons, physicians, and back pain specialists are excited about the potential benefits of regenerative medicine in spine care because: 
Regenerative treatments can supercharge the body's own capacity to recover and repair.

It is less invasive than open surgery and minimally-invasive surgery, which means a shorter recovery time for patients who often feel significantly better quickly after treatment. 
Why Spinal Surgeons Prefer Non-Invasive Treatments
Although medical treatments like open, and minimally-invasive back surgery are a must for some cases, non-invasive treatments are being recommended because:
They are offering patients effective and often immediate relief, which positively impacts their wellbeing as well as the lives of their families and caregivers.

Less invasive procedures disrupt less tissue surrounding the area, which shortens the healing and recovery period and can decrease the risk of complications and infection.
---
---
Who is a Candidate For Regenerative Medicine?
Many world-renowned athletes are turning to regenerative medicine as a means of recovering from a serious, potentially career-ending injury. However, celebrities aren't the only ones who can benefit from these treatments. Today anyone with back pain or injury can be potential candidates for regenerative medicine. 
Have Your Case Reviewed By Houston's Leading Spinal Surgeon
The best way to find out if non-invasive regenerative medicine is the best option for your healing and recovery is to fill out the questionnaire below. Dr. Ra'Kerry Rahman can then evaluate your case at no charge.
Dr. Rahman is one of the leading spinal surgeons in the country. He has trained with the world's leading spine and scoliosis surgeons, and has performed countless surgeries in both adults and children, world-wide. Patients travel from all over the country to our spine institute in Houston to receive the treatment they need to finally find healing and pain relief. Learn more about Ra'Kerry Rahman M.D. on our about page and read testimonials from patients just like you. The Houston Scoliosis & Spine Institute and Dr. Rahman look forward to helping you .