Non-Surgical Solutions to Back Pain
Pain of any kind is unpleasant. However, back pain can be one of the most debilitating as it seems to affect every area of your life. In some cases, no matter how you move, you can't avoid searing pain in your back and affected extremities. According to the American Chiropractic Association, about 31 million Americans experience lower back pain, and worldwide, it is the single leading cause of disability — keeping many from working and enjoying everyday activities. It is also important to note:
When all other methods of relief and healing seem to fail, it can be easy to think that spinal surgery is the only option left that might finally help your back feel better. Additionally, it is a treatment that is familiar to most patients and therefore, trusted. However, there is yet another option: regenerative medicine.
---
Regenerative Medicine For Back Pain
Regenerative medicine is a non-surgical solution to back pain that is allowing many patients in Houston and beyond to not only finally find relief from pain, but also to get back to their lives as usual — sometimes even after years of pain and disability. Though surgery is a viable option and sometimes the only treatment plan for some patients, regenerative medicine techniques such as stem cell therapy for back pain and platelet rich plasma injections are becoming the recommended procedure for qualifying patients by the nation's leading spine surgeons. The fact that the top spinal surgeons in the country would recommend a non-surgical approach to treatment is telling of the possible effectiveness of this treatment plan. However, why are so many recommending regenerative treatments to their patients?
---
Why Choose Non-Invasive Back Procedures?
Learn more about regenerative medicine, PRP therapy and stem cell therapy for back pain.
---
A Note from World-Class Spine Surgeon Dr. Ra'Kerry Rahman
If you are like many of my patients, right now hearing about my credentials is probably not at the top of your list. You have been dealing with a back problem that has become debilitating. This is the kind of pain that makes it difficult to sit, stand, sleep, go to the bathroom or ride in a car for over an hour. 
Of course there are pain pills, but they often come with side effects that you don't like and want to avoid. You may have tried chiropractic, pills, physical therapy, massages, ointments, oils, rubs and anything else. You have had pain injections, cortisone shots, steroids, dyes injected, and endured exhaustive testing.
You have searched all over Texas looking for someone who can make your pain stop. What everyone keeps telling you is to either live with the pain or that you have to have surgery. The thought of surgery, being out of commission for weeks, and considering a possible 50% chance of success is not an option. So, you'd rather take another pain pill and tough it out. 
But now the pain has finally gotten to be too much. Those closest to you are noticing the toll the pain is taking and they are struggling with how it is affecting you, as well.
What if I told you that surgery may not be the best idea for you? 
To put this into context, I am a world-class spine surgeon. I have been trained by the best spine surgeons in the world. I am a published author, an educator and regularly perform some of the most complex spine surgeries on both adults and pediatric patients.
My name is Dr. Ra'Kerry Rahman and I would like patients to know that there is another option before surgery. It is a non-invasive procedure, done in the office that takes under 1 hour.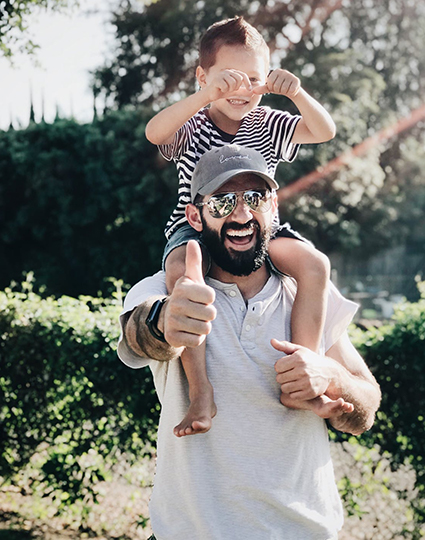 Many patients who have had this procedure report that in as little as 28 days they have experienced 85% pain reduction. Within 6-months their pain is virtually gone. They are able to play with their kids and grandkids, are able to sleep through the night, and are generally happier. 
There is a bit of bad news. Not everyone is a candidate for this procedure. Many of you will need to have surgery.
However, by answering the simple questions in the form below, I will be able to determine if you qualify as a candidate for regenerative medicine and for my online review of your case.
Normally, a telemed review of an MRI is billed at $399. Yet, if you qualify as a candidate for the procedure, the cost for your case review is only $99. 
Simply take the short questionnaire, and we can determine if you are a candidate.
---
When choosing regenerative medicine,
who should you trust?
Many world-renowned athletes and patients have successfully avoided surgery through regenerative medicine. PRP (platelet rich plasma) therapy has been extremely effective for back and neck pain patients who have exhausted other treatments. 
Because of its growing popularity in numerous applications, regenerative medicine has become more widely-available. It is now administered by a variety of numerous health care providers and back pain specialists throughout the Houston-area. When choosing regenerative medicine, who should you trust?
It is vital to choose a doctor who has the most medical expertise to provide you with sound advice for your condition.
Dr. Rahman is among the most highly-qualified spine surgeons in the Houston area. Because of his specialized education and extensive experience in complex spine and scoliosis surgery, minimally-invasive and general procedures for adults and pediatrics, he is able to provide patients with a comprehensive perspective regarding the best course of treatment for their back problem. This often includes advising patients how not to have surgery.
From non-surgical, minimally-invasive or open surgical procedures, patients can rely on receiving state-of-the-art expertise to choose the best course of action for their particular condition. Our goal is for Dr. Rahman to be the last surgery appointment you'll ever need.
The expertise of your medical provider is the most important consideration when determining a treatment plan for your back problem. Dr. Rahman is unique in the Houston market because he is one of the nation's elite spine surgeons. From non-surgical, minimally-invasive or open surgical procedures, patients can rely on receiving state-of-the-art expertise to choose the best course of action for their particular condition. 
Our goal is for Dr. Rahman to be the last surgery appointment you'll ever need.

What is Regenerative Medicine?
We live in an exciting time for medicine and for those seeking non-surgical means of recovery and pain relief. With advances in technology and research, the options for patients suffering from back pain and injury finally have options. Though surgery is often the next step for many patients, utilizing regenerative medicine is also becoming more accessible and preferred by back surgeons as a means of treatment.
Regenerative medicine is an umbrella term for a couple of procedures that involve using the body's own means of healing to target those areas in the back that are injured. Stem cell therapy and PRP therapy for back pain are two methods of regenerative medicine that are allowing those suffering from back pain and injury to return to their daily lives faster than those that underwent surgery.
What is PRP Therapy?
The potential effectiveness of platelet rich plasma injections is evident in the numerous procedures that are utilizing this revolutionary means of regenerative medicine. Outside of the medical practice, PRP therapy is being used at med spas all over the country to rejuvenate facial skin and tissues for a youthful appearance. Doctors are also treating those suffering from knee pain with PRP injections. 
How Does It Work?
PRP stands for Platelet-Rich Plasma and is essentially, using a patient's own blood to stimulate healing. Within our body, we have various entities that are responsible for regeneration. One of those is the platelets within our blood. These cells are packed with powerful factors such as growth factors and cytokines. 
When we become injured, these factors awaken the surrounding cells and signal them to the place of injury to speed up the healing process. When these cells are at work, all types of tissues are able to heal and regenerate including tendons, bones, and even blood vessels.
Where Does PRP Injections Come From?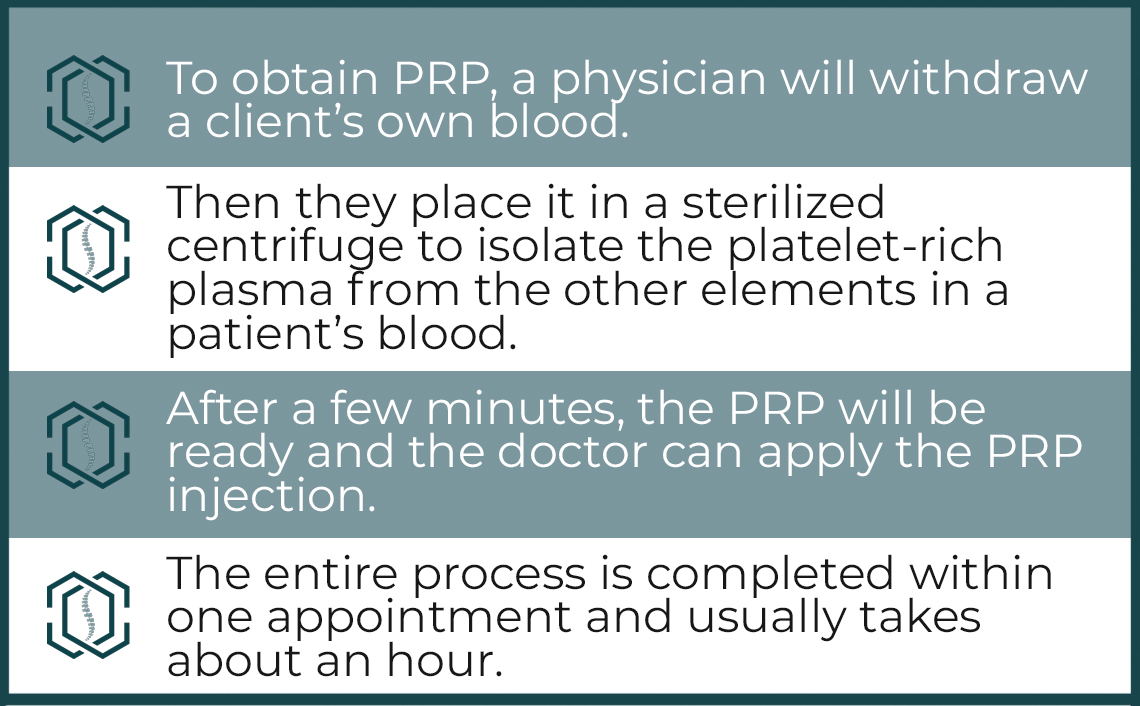 How Do Growth Factors Work?
The growth factors within our cells are responsible for the entire healing process. Platelet-rich plasma is chosen to stimulate healing because of the concentration of growth factors that are bound to the platelets found in our blood. These factors are responsible for the regeneration of cells to heal the affected area. Cytokines are responsible for organizing the healing process; they are essentially the foreman of the healing "construction crew."
What is Stem Cell Therapy? 
Stem cell therapy is very similar to PRP therapy as it utilizes the body's own means of healing and regeneration. However, instead of using the growth factors found within platelets, stem cells found within bone marrow aspirate, abbreviated to BMA, are utilized. 
How Does Stem Cell Therapy Work?
Stem cells, in conjunction with growth factors and other tissues in the body, stimulate the regeneration of new cells for healing. Stem cells are special because they have the ability to become a variety of different tissues. In addition to differentiating into the tissues needed for healing, they also direct the process of healing. 
Where Do Stem Cells Come From?
What Does Regenerative Therapy Process Look Like?
The reasons why so many spinal surgeons in Houston and beyond are recommending stem cell therapy for back pain is due not only to the potential effectiveness and the subsequent shortened recovery time (when compared to surgery recovery), but also due to the length of the procedure — it can be completed within one visit. 
Stem Cell Therapy Process
What is the Difference Between PRP & Stem Cell Therapy?
To understand how regenerative medicine works, we must understand the healing process of the human body and how it is "super-charged" during these treatment methods.
What is Healing?
It may seem like a silly question at first because most have witnessed healing for trivial injuries like a scrape or papercut: you have been able to watch your body heal itself. However, what is this process, really? 
As we discussed with PRP therapyand stem cell therapy [anchor link to above section], growth factors are highly concentrated on platelets which are released when we become injured. These growth factors and cytokines inspire and organize healing with the help of surrounding cells. The needed cells are regenerated and through this healing process, tissues and physical structures are restored. 
How Are They Different?
The goal between these two types of regenerative medicine is the same: to inspire healing through the regeneration of the needed cells. In both cases, growth factors and cytokines must be present for healing to occur. 
Stem cell therapy, however, provides the cells to facilitate the healing process versus PRP treatment, only stimulates the present cells to heal the injured area. The injected stem cells will differentiate themselves into the needed connective tissues by "talking to" or signalling the already present cells — this accelerates the healing process exceptionally well. 
The Benefits of Regenerative Medicine
Many back pain specialists are excited about the potential benefits of regenerative medicine because: 
This supercharges the body's own means of healing — allowing the body to heal itself

It is less invasive which means a shorter recovery time for their patients who can feel better as quickly as possible. 
Why Spinal Surgeons Prefer Non-Invasive Treatments?
Though invasive medical treatments like back surgery are a must for addressing the root of the issue in some cases, non-invasive treatments that could be just as if not more effective are being prioritized because 
They are in some cases more effective than back surgery.

Less invasive procedures disrupt less tissue surrounding the area which . . .

Shortens the healing and recovery period.

Can decrease the risk of complications and infection.
Who is a Candidate For Regenerative Medicine?
Many athletes are turning to regenerative medicine as a means of quickly healing from a serious and potentially career ending injury. However, they aren't the only ones that can benefit. Anyone with back pain and injury can be potential candidates for this procedure. 
Have Your Case Reviewed By a World-Class Spinal Surgeon
The best way to find out if regenerative medicine is the best option for your healing and recovery is to fill out the questionnaire below. Dr. Ra'Kerry Rahman can then evaluate your case for only $99. 
Dr. Rahman is one of the leading spinal surgeons in the country. Patients travel from all over the country to our spinal institute in Houston to receive the treatment they need to finally find healing and pain relief. Learn more about Ra'Kerry Rahman M.D. on our about page and read testimonials from patients just like you. The Houston Scoliosis & Spine Institute with Dr. Rahman look forward to working with you.
---
TOPIC CONTENT RESEARCH:
https://sanfrancisco.cbslocal.com/2019/06/11/east-bay-clinics-unapproved-stem-cell-therapy-marketing-practices-draw-scrutiny/
https://www.beckersspine.com/biologics/item/45980-stem-cell-controversies-where-we-are-in-2019.html
https://sanfrancisco.cbslocal.com/2019/06/11/east-bay-clinics-unapproved-stem-cell-therapy-marketing-practices-draw-scrutiny/
https://spinalnewsinternational.com/stem-cells-myth-panacea/
https://www.spineuniverse.com/treatments/emerging/stem-cell-therapy-spine-care-treatment
http://www.spineline-digital.org/spineline/september_october_2018/MobilePagedArticle.action?articleId=1423833#articleId1423833
https://health.usnews.com/health-care/for-better/articles/regenerative-medicine-for-spine-conditions
https://www.mayo.edu/research/documents/regenerative-medicine-patient-education-pamphlet-mc7993/doc-20419433
https://www.beckersspine.com/spine/item/44783-the-holy-grail-of-spine-surgery-regenerative-medicine-dr-eugene-koh-says.html
https://khn.org/news/elite-hospitals-plunge-into-unproven-stem-cell-treatments/
NEWS
https://www.technologynetworks.com/biopharma/news/japan-approves-stem-cell-therapy-for-spinal-cord-injuries-315803
https://khn.org/news/superstar-athletes-popularize-unproven-stem-cell-procedures/
Press Release: https://www.prnewswire.com/news-releases/international-spine-institutes-dr-marco-rodriguez-using-stem-cell-therapy-instead-of-spinal-surgery-to-relieve-chronic-low-back-pain-300777340.html
Cornell
https://comprehensivespine.weillcornell.org/treatments/regenerative-medicine/
STUDIES
https://www.ncbi.nlm.nih.gov/pmc/articles/PMC5072053/
Alex Rodriguez, golf great Tiger Woods, Kobe Bryant of the LA Lakers, tennis champion Rafael Nadal, and Hines Ward of the Pittsburgh Steelers 
https://www.ncbi.nlm.nih.gov/pmc/articles/PMC5911760/
Matt Articles 
https://www.health.harvard.edu/staying-healthy/platelet-rich-plasma-therapy-may-help-counter-balding
https://www.ncbi.nlm.nih.gov/pmc/articles/PMC6030616/
https://www.ncbi.nlm.nih.gov/pmc/articles/PMC6220007/
https://spine.imedpub.com/autologous-platelet-rich-plasma-for-neck-and-lower-back-pain-secondary-to-spinal-disc-herniation-midterm-results.pdf